Share This Story, Choose Your Platform!
Stamford Residents Are Encourage to Check Their Smoke Detectors With the Changing of the Clocks!
Stamford, CT – 10/23/2023] – As part of our ongoing commitment to community safety, the Stamford Fire Department (SFD) is proud to announce the continuation of its highly successful Smoke Detector Installation Program. Despite being in operation for several years, many Stamford homes still lack working smoke detectors, and the SFD remains dedicated to bridging this crucial safety gap.
Interim Chief Robert Morris would like to remind Stamford residents that  "In the world of firefighting, prevention is key, and smoke detectors are your first line of defense."  He goes on to say "With that, Fire Prevention Month serves as a poignant reminder of the importance of fire safety and a working smoke detector."
Smoke detectors, often referred to as the unsung heroes of fire prevention, play a pivotal role in saving lives and preventing extensive property damage. However, their effectiveness relies on regular maintenance and replacement.
To encourage responsible fire safety practices, SFD emphasizes the significance of checking smoke detectors twice a year, coinciding with the switch to daylight saving time in the spring and the return to Eastern Standard Time in the fall.
For those who are unable to acquire or install smoke detectors due to financial constraints or physical limitations, the Stamford Fire Department continues to extend a helping hand. Our program offers free installation of battery-powered combination carbon monoxide and smoke detectors, and we are pleased to announce that more detectors are on their way to meet the ongoing demand.
Securing an installation appointment is simple. Visit our website at stamfordfire.com to request your appointment today. Please remember that smoke detectors and our free installations are scheduled on a first-come, first-served basis.
If you have already purchased a smoke detector and require assistance with installation, our skilled firefighters are ready to assist you too.
While we endeavor to provide assistance, it is important to clarify that we are unable to replace hard-wired smoke detectors through this program.  You should call your alarm company or electrician for assistance.
It is important to emphasize that landlords hold a legally mandated responsibility to purchase, install, and maintain smoke detectors for their tenants. Our program is not a means for landlords to request detectors through, but rather a resource dedicated to enhancing the safety of individuals and families who might not otherwise have access to this critical protection. Landlords must proactively fulfill their duty by investing in and installing smoke detectors within their properties, ensuring the well-being of their tenants. We strongly encourage landlords to adhere to their obligation to provide this essential safety measure independently and at their own expense, leaving no room for compromise when it comes to tenant safety and security.
"As a fire chief, my goal is to prevent fires, not just fight them. Smoke detectors are the best tool for that job." — Interim Fire Chief Robert Morris
Did you know…
Smoke alarms have a finite lifespan, typically lasting about 10 years from the manufacture date. Age matters when it comes to smoke alarms, so it is essential to keep your detectors up to date to guarantee they function reliably when needed most.
During a fire emergency, every second counts. When a smoke alarm sounds, you may have less than 2 minutes to evacuate safely. Therefore, it is imperative to ensure that your smoke alarms are in good working condition, as they are your family's primary defense against the devastating consequences of a fire.
Important fire safety considerations include:
Remember that over half of home fire deaths occur between 11 p.m. and 7 a.m., when most people are asleep.
To maximize protection, install interconnected smoke alarms throughout your home, so that when one sounds, they all sound in unison.
Consider the specific needs of individuals who may require assistance, such as children and older adults, to awaken in the event of a fire.
In the event of a fire, evacuate immediately, proceed to your designated outside meeting place, and contact the fire department from a cell phone or a neighbor's phone. Re-enter the premises only when it is declared safe to do so.
It is crucial to resist the temptation to disable smoke alarms during cooking or when faced with steam. If your alarm sounds under these conditions, consider opening a window or door, pressing the "hush" button, waving a towel at the alarm, or relocating it a few feet away from the source of steam. Disabling a smoke alarm or removing its battery can have grave consequences.
The Stamford Fire Department remains steadfast in its mission to protect and serve our community. We urge all residents who may still be without working smoke detectors to take advantage of this valuable, free installation program. Together, we can fortify our homes against fire emergencies and ensure the safety of our loved ones.
About Stamford Fire Department:
The Stamford Fire Department is dedicated to serving and protecting the residents of Stamford, CT. Our mission is to prevent fires, provide emergency medical services, and promote safety within our community. We are proud to continue offering this free smoke detector installation program as part of our unwavering commitment to enhancing public safety.
Resources:
A  PDF of the flyer shown can be downloaded and distributed to citizen groups.
Click to access Smoke-detector-Flyer.pdf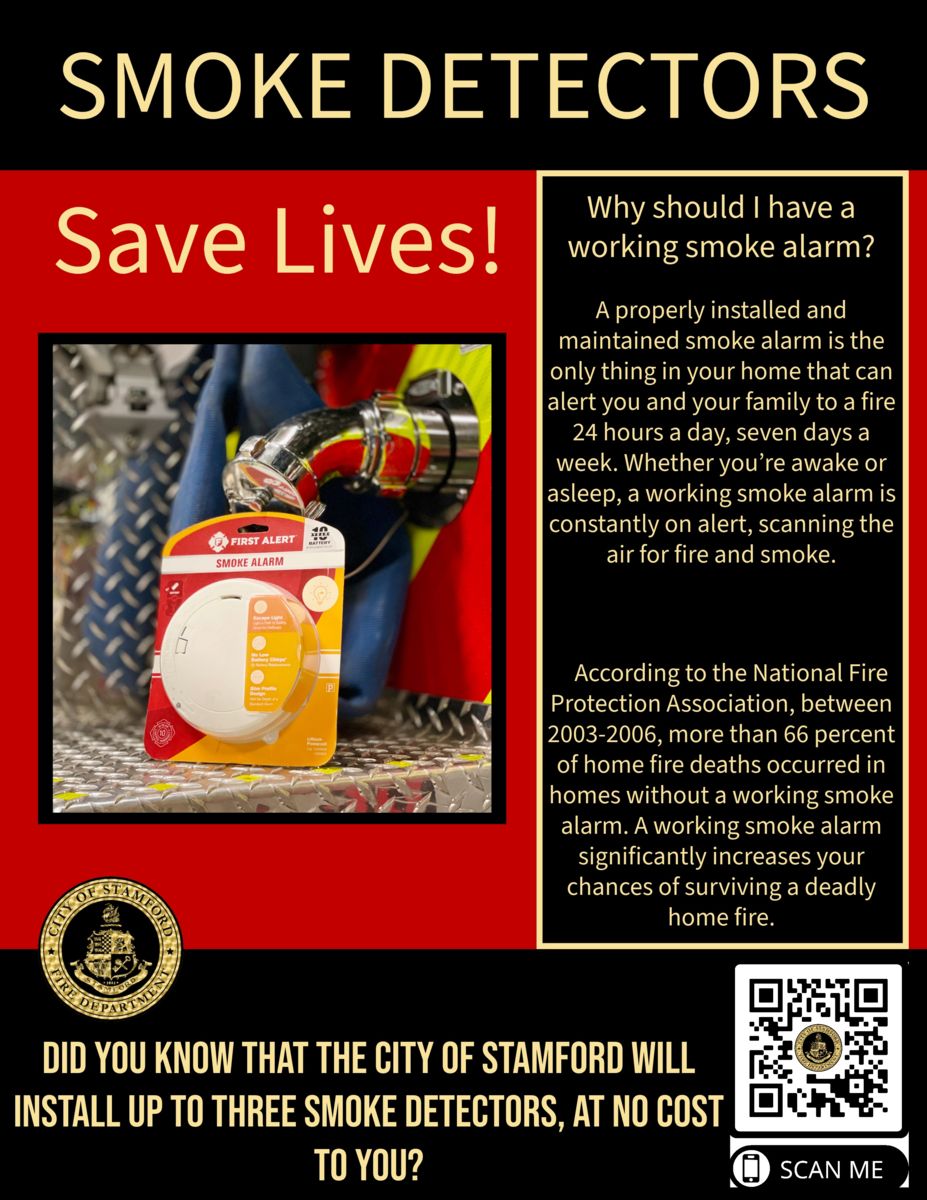 Incident Details (if applicable):
Incident Number:
Incident Location:
Incident Date:
CONTACT INFO:
Fire Captain – Public Information Officer Philip Hayes
(203) 977-5600
Tags: