Share This Story, Choose Your Platform!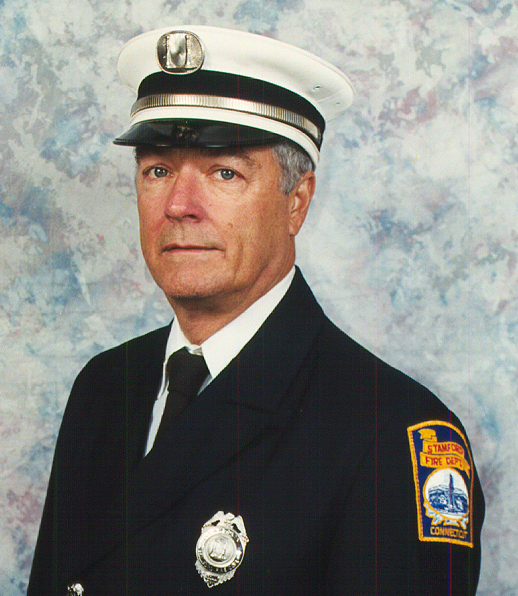 It is with deep regret that the Stamford Fire Department announces the passing of retired Fire Captain Robert F. (Bobby) Herrman. Bobby, beloved for his sparkling smile, quiet strength and golden heart, slipped away peacefully on December 3, 2020 with the love of his wife, Sharon, family, friends and all who knew him as a longtime Stamford resident, and as a Captain on the Stamford Fire Department.
Bob was weeks shy of his eightieth birthday when he passed at St. Vincent's Medical Center in Bridgeport. Bob was born in Stamford on December 27, 1940 to Frederick and Lillian (Richardson) Herrman, and was predeceased by his brother and wife, Frederick and Donna Herrmann. Bob was predeceased by wives Angela Staryk and Clarissa Maffucci in 2002.
Bob is survived by son Robert Michael Herrman and wife Rene Ward of Eagle Idaho; daughter Bonnie Herrman of Hamilton, Ontario; daughter-in-law Nicole Petti Herrman and partner Dante Cerni of Charleston, South Carolina; and grandchildren Tyler, Kayla and Lucille Herrman and Mikki Wilson.
Despite the loss of his wife, Clarissa, Bob continued an active, loving connection with her family in Stamford including sister-in-law Elizabeth Maffucci Gray and husband Paul Gray; brother-in-law Al Maffucci; children Kevin, Tim, Laurie and Harry Ott. Plus many, many friends who could be counted on to bring a zest for celebration to any family gathering.
Bob started his career with the Stamford Fire Department on July 15, 1974, and his service spanned over 30 years. In 1982 Bob was promoted to Fire Lieutenant and worked from Headquarters until 1991 when he again rose through the ranks and became a Fire Captain. That assignment stationed him at 3 Company on the Westside where Bob commanded both an Engine and Truck company. Bob certainly had the respect of his crew as well as all the other firefighters in the Department. He was truly a firefighter's firefighter.
Bob's life was rich with many life-long relationships with fellow firefighters and friends that lasted until his passing. In addition to his position with the Department, Bob and good friend former Fire Chief Tony Conte ran a painting business for many years. Active in the Glenbrook Athletic Club and the Elks for many years, Bob was known as an enthusiastic and skilled golfer at the clubs' golf outings. He looked forward to the annual fall "hunting" trips to Vermont with his friends from the Department, which involved marathon gin rummy games with his card-partner, Art Conkright. Bob played racquetball weekly with a childhood friend, the late George Galuris, and was good natured about the beating he took every time they played.
In 2003, a longtime friend, Pat Conklin, introduced Bob to Sharon and in 2005 they were married and Bob moved to Fairfield ("the country"). Sharon's Bernese Mountain Dog, Zelda, recognized a soft-touch when she saw one and she and Bob became inseparable. After he retired in 2006, Bob and Sharon spent several years traveling to stay in touch with family and fire department friends in South Carolina and Florida.
When chronic heart and health problems curtailed his travel Bob was happy to stay local, making trips to the Glenbrook Athletic Club on Thursday evenings, to the Gray's for family events, and going out to dinner in Fairfield.
So that we can celebrate the memory of Bob's life with joy, a memorial gathering will be planned for the spring in order to accommodate safety concerns and travel restrictions imposed by the current public health crisis.
Arrangements were under the care of Thomas M. Gallagher Funeral Home located at 104 Myrtle Street, Stamford, CT 06906. For online condolences, please visit Gallagherfuneralhome.com