Share This Story, Choose Your Platform!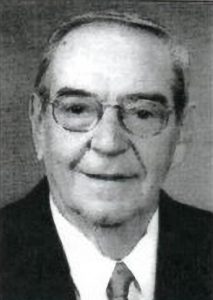 It is with deep regret that the Stamford Fire Department announces the passing of retired Fire Lieutenant Fredric Carl Padgett. Sr.. Fred passed away peacefully on October 5, 2019 in Stamford at the age of 81. Fred was born on December 26, 1937 in Stamford's West Side to the late Fredric Padgett and Violet Vacca Padgett, and raised with the help of his grandparents, Annie and Carlo Vacca.
He is survived by his son Thomas Padgett and his wife, Sherry Padgett of Shelton, CT, his daughter Katherine Padgett Mair, and her husband, Gary Mair of Wayne, PA, and four grandchildren, Mary Padgett and Fredric C. Padgett III, both of Stamford, CT, Kalan Mair and Cameron Mair of Wayne, PA. He was predeceased by his wife of 60 years, Mary Ferguson Padgett, and oldest son, Fredric C. Padgett Jr.
Sports played an early and significant role in Fred's life. As the shortstop for the Police Team in the Little Bigger League, a precursor to the Babe Ruth League, Fred was named to the 1953 series All-Tournament Team. The Police Team won two national titles and the first Babe Ruth League National Championship. Fred played baseball for three years at Stamford High School, where he also excelled in football as a member of its 1953 State Championship team, and in 1954, was named starting quarterback. Upon graduation the following year, Fred was the recipient of the "Old Timers" Award, an honor bestowed upon the most promising young athletes in Stamford. Later that same year, Fred was invited to work out with the New York Giants at the Polo Grounds and the New York Yankees at Yankee Stadium. He also received both a baseball and football scholarship to attend the University of Bridgeport. In 2007, The Stamford Old Timers Association honored Fred for the second time in his life for his extraordinary athleticism
After Fred married his high school sweetheart, the love of his life, Mary Ferguson, they made their home in Stamford where they raised a beautiful family, instilling virtues of love, dedication, and faith.
Fred served more than 29 years on the Stamford Fire Department where he rose to the rank of Lieutenant. He was a member of the Springdale A.C. and the Elks, was an avid golfer and champion of the Angus Lea Tournament.
Fred was admired and treasured by family and community alike. An honored athlete, intrepid firefighter, beloved husband, father, grandfather and friend: Fred's peaceful presence and example of strength will forever remain in the hearts of all who knew him.
Calling hours will be held on Friday, October 11th from 9am to 10:30 a.m. at Bosak Funeral Home, 453 Shippan Avenue, Stamford, CT 06902 followed by a Mass of Christian Burial at 11am at The Church of St. Cecelia, 1184 Newfield Avenue, Stamford, CT 06905. Interment will follow at Fairfield Memorial Park, 230 Oaklawn Avenue, in Stamford.
In lieu of flowers, the family requests donations to be made to the: Stamford Firefighters Local 786 Burn Foundation, Stamford Fire Headquarters, 2nd Floor, 629 Main Street, Stamford, CT 06901, https://www.stamfordfire.com/divisions/burn-foundation/
The family has entrusted the funeral arrangements to Bosak Funeral Home, 453 Shippan Avenue, in Stamford. If you would like to leave an online condolence message for the family visit the family guestbook on bosakfuneralhome.com or on Facebook at facebook.com/bosakfuneralhome.