Share This Story, Choose Your Platform!
Extinguished Gas Station Fire while Off-Duty
(Stamford, CT. 2/20/19): Today, a City of Stamford firefighter was recognized for his actions in controlling a gas station fire while off-duty in January. He was awarded a Meritorious Service Award by the Police and Firemen's Insurance Association, a fraternal benefits organization supporting police officers and firefighters nationwide.
On January 17, 2019 at 1:20 pm off-duty City of Stamford Firefighter David Bocchetta, of Truck Co. #2, was in line for fuel at the Citgo station located at 493 Glenbrook Road when he noticed a serious problem. A fire erupted at the nozzle of a car being fueled ahead of him. He immediately reacted by clearing people from danger, grabbed a dry chemical fire extinguisher, and extinguished the fire. His actions prevented injuries and further property damage to the vehicle and the property. The fire had the protential to cause major damage if it had spread beyond the point of ignition.
In recognition of his actions he was presented the award by Stamford Deputy Fire Chief, and PFIA representative, Pat Tripodi in the presence of Chief Trevor Roach, Bochetta's immediate family, and fellow firefighters at Central Fire Headquarters.
Offical SFD Photo attached: L to R: Fire Chief Trevor Roach, Firefighter David Bocchetta, and Deputy Chief Patrick Tripodi.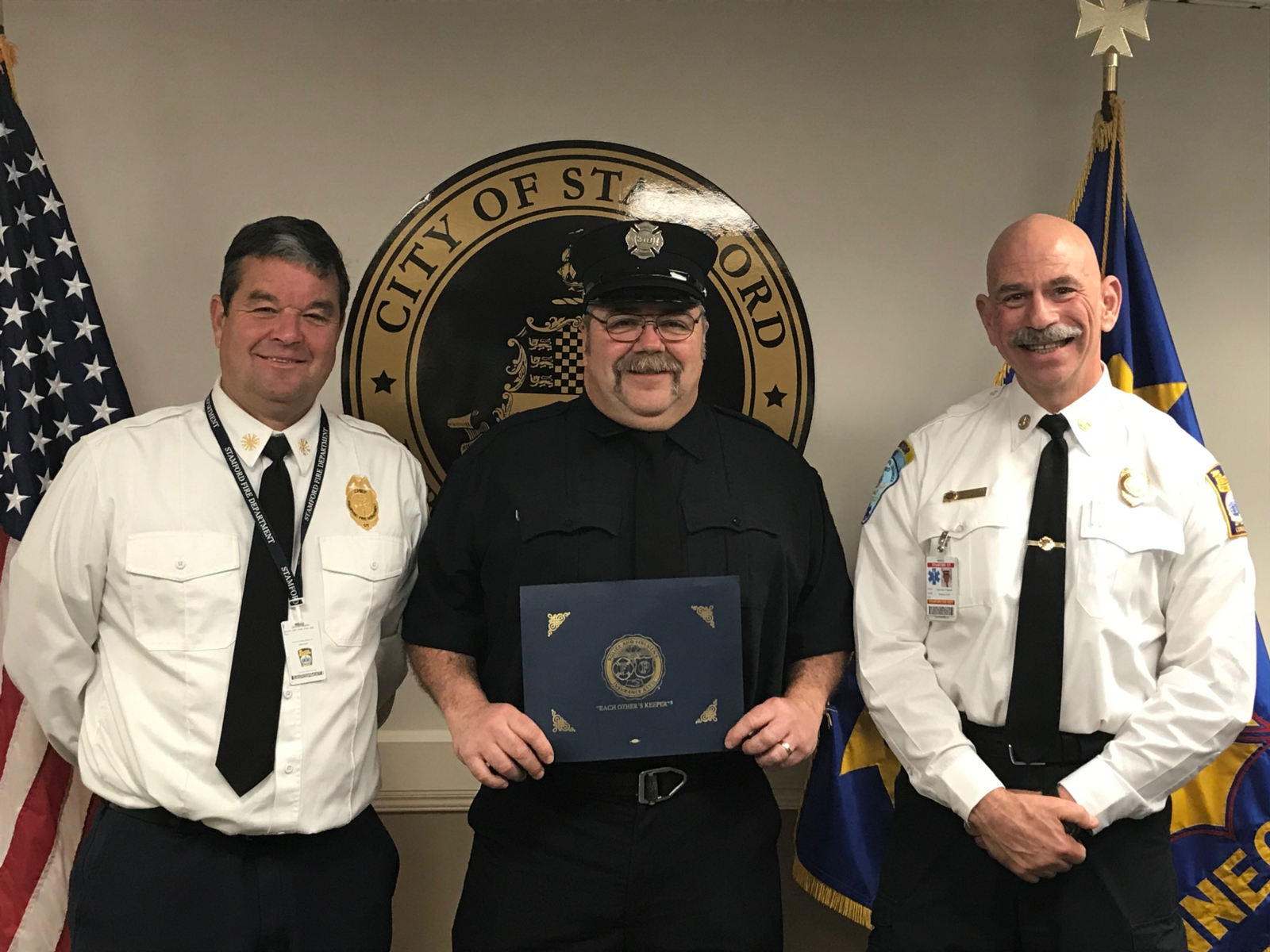 Incident Details (if applicable):
Incident Number: n/a
Incident Location: Central Fire Headquarters, 629 Main Street, Stamford, CT. 06901
Incident Date: 2019-02-20 10:00:00.0
CONTACT INFO:
Deputy Fire Chief Patrick Tripodi
(203) 977-5600
Tags: