Share This Story, Choose Your Platform!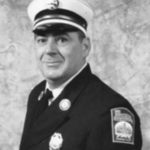 It is with deep regret that the Stamford Fire Department announces the passing of retired Stamford Fire Lieutenant Jeremiah (Jerry) Ormond. Lieutenant Ormond served the Fire Department for 22 years. We are grateful for his dedicated service.
Our thoughts and prayers are with Lieutenant Ormond's family during this difficult time. The following is his published obituary.
"We've lost a true Irishman." Jeremiah Joseph Ormond III passed away at home after a brief illness on November 2, 2018 at the age of 64. He was one of five children born to Bridget Cassidy Ormond and the late Jeremiah Joseph Ormond II. He was married to his loving wife of 37 years, Jeanne McAuliffe Ormond and is survived by his son Jeremiah Joseph Ormond IV and his wife Gemma. He was known as Poppy to the joy of his life, his granddaughter Kadence Riley Ormond. He is survived by his sisters, Bridget Kopek (Ron), Moira Bryson (Drew), Tara O'Brien (Tommy) and one brother, Thomas M. Ormond (Donna) of Stamford, his brother in laws Mark McAuliffe (Diane) of Wilmington, NC and Paul Gaffney of Wayne, PA and several nieces and nephews. He was predeceased by his brother in law, Patrick McAuliffe (Lenore) and his sister in law, Sheila McAuliffe Gaffney.

He was born and raised in Stamford, CT. He was honorably discharged from the US Navy after serving on the USS Forestal. He returned home and was employed by The Stamford Fire Department for 22 years, during his tenure as a firefighter, he achieved the rank of Lieutenant working in the 911 center and spent five years as a Deputy Fire Marshall. After retirement he was a licensed home improvement contractor, he enjoyed renovating his homes over the years.

Prior to his career as a firefighter, he was a volunteer firefighter with the Turn of River and Glenbrook Fire Departments and a volunteer at Long Ridge Fire Department after his retirement. He was also active in the Fairfield County Fire Chiefs holding the office of secretary. He was a member of the Ponus Yacht Club and The Elks Club. He was a very devoted hockey dad, always giving his son every opportunity to achieve his goals. He enjoyed playing the guitar and watching his beloved NY Giants and NY Mets. One of his favorite pastimes was spending time with his beloved labs at Cove Island Park. He is remembered as a friend always willing to help others. "He stood for his beliefs, communicated them at times in opinionated/unorthodox ways – but we all loved him for it".

Visitation will be held from 4-8 p.m. on Wednesday, November 7, 2018 at Thomas M. Gallagher Funeral Home, 453 Shippan Ave., Stamford, CT (203)-359-9999. A Mass of Christian Burial will be held at 11 a.m. on Thursday, November 8, 2018 at St Maurice Church, 358 Glenbrook Rd., Stamford, CT.

In lieu of flowers, donations may be made to the Stamford Firefighters Burn Foundation, 629 Main Street, Stamford, CT 06901. To send on-line condolences to the Ormond family, please visit www.gallagherfuneralhome.com