Share This Story, Choose Your Platform!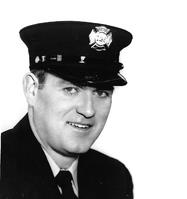 It is with deep regret that the Stamford Fire Department announces the passing of retired Stamford Firefighter George Thomas Searles Sr.
Firefighter Searles was 84 year old, formerly of Stamford and more recently of Shelton. He passed away on Friday, June 8, 2018.
Born February 5, 1934, George was a graduate of Stamford High School and went on to join the U.S. Navy in 1953 serving during the Korean War on the USS McGowan. Following his Navy tour, George went on to a 37 year career with the Stamford Fire Department where he served his hometown community.
George was a giving man. Someone you could always count on. Family was the key to his life. His wife, children and grandchildren were his most important priorities. Always with the quick-witted response, his one-line zingers were amazing and his overall priceless sense of humor – he was just larger than life. A gentle soul and a gentle giant. An avid sports fan (Go Patriots!), fisherman, chess player, history buff and master craftsman in woodworking (having built many winning cars for the Pinewood Derby Races.) He always was a man of service and dedication in anything he set his mind to. He will be so greatly missed.
George was pre-deceased by his parents Kenneth and Margaret Searles of Stamford. Also pre-deceased by his son George Thomas Searles Jr. (Tommy) as well as his siblings Dorothy Novakowski, William, Robert, John and Ken Searles.
Survivors include his loving wife Frances Casciari Searles (of 58 years); his son John Searles and wife Bonnie of Shelton; his daughter Mary Searles Allegrini and her husband Michael of Shelton and George's grandchildren, Kyle, Hayley, Trevor, Tory (Searles), Jenna (Allegrini) and great grandson Michael Bennett Searles.
He will be greatly remembered by everyone who knew him, especially his many nieces, nephews, cousins and friends.
A celebration of George's life will take place on Monday, June 18, 2018 at 10 a.m.; St. Joseph's Church, 50 Fairmont Place, Shelton, CT. Family and friends are invited to attend a luncheon immediately following at The Stone Barn at Whitney Farms, Route 110, Monroe, CT.
In lieu of flowers, the family requests that any donations be made in George's name to The Connecticut Hospice of Branford, CT.