Share This Story, Choose Your Platform!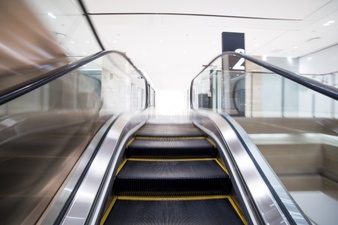 Stamford, CT. November 30, 2016 – At 7:51 pm City of Stamford firefighters were called to the Macy's department store at 151 Broad Street to rescue a five-year-old child who had gotten his foot caught in an escalator. One engine company, one truck company, the department's heavy rescue company, and the duty deputy chief responded with a total of 14 firefighters. In addition to the fire department Stamford Police and Stamford EMS also responded to the scene. Upon arrival, firefighters found that the child's foot had been pulled into the side of the escalator at the edge of a step. The escalator's automatic emergency stop system had activated preventing further injury to the child. Firefighters shut down power to the system and began disassembling the escalator using specialized equipment carried by the rescue company. SEMS paramedics treated the child throughout the extrication process. Within 39 minutes of the first call to 9-1-1 the child was freed from the escalator and transported by Stamford EMS to the Stamford Hospital emergency department for treatment. This incident came to a successful end due to the combined efforts of the city's emergency services with the cooperation of the mall and store officials.
This is but one example of the wide range of services provided by the Stamford Fire Department to the public. From fire protection and prevention to technical rescue and hazardous materials response your firefighters are prepared to protect the public around the clock.
Incident Number: 16-10089
Incident Date: Wednesday, November 30, 2016 at 7:51 PM
Incident Location: Macy's, 151 Broad Street, Stamford, CT. 06901