Share This Story, Choose Your Platform!
We were recently notified that retired Firefighter George F Heinlein passed away back in 2011,  In an effort to properly recognize his service to the City of Stamford, we are posting his obituary from back then.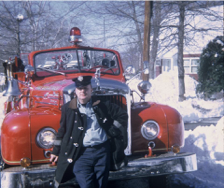 George F. Heinlein of Ridgefield, passed away peacefully on Sunday, January 2, 2011. Born and raised in Stamford, he was the son of Albert and Sarah (Isbell) Heinlein. George was awarded the Bronze Star for his service in the U.S. Army during World War II. He served as a firefighter with the City of Stamford for 30 years. George is survived by his loving wife of 64 years, Doris (Naring) and his four children, Janice Breed and her husband, Richard Fisher of Gloucester, Mass., Albert G. Heinlein of Bridgeport, Paula D. Mulhern and her husband, Edward of Bethel, and Ginger A. Heinlein of Danbury. He also leaves behind a granddaughter, Kristina Jordan and her husband, Jacob, and a nephew, George Barron and his wife, Donna of Stamford. Services will be private. Arrangements are being handled by the Kane Funeral Home, 25 Catoonah St., Ridgefield. In lieu of flowers, donations may be made to Praxair Cancer Center, Outpatient Infusion Center, Danbury Hospital, 24 Hospital Ave., Danbury, CT 06810.