Share This Story, Choose Your Platform!
Stamford Resident Survives Cardiac Arrest
On March 10, 2016, Stamford Fire Department Engine 4 and Stamford EMS Paramedic 1 were dispatched to a report of an unconscious male in front of 115 Jefferson St. Stamford Engine 4, being dispatched as the closest unit to the incident, was first to arrive on the scene in just over 1 minute. They found a car, with the engine still running, up against a security fence that runs along the road. Inside the car was an apparent unconscious male, with a bystander attempting to rouse him by aggressively rubbing his chest. Engine 4 crew quickly took control of patient care and checked for a pulse. Having found none, they promptly removed the patient from the driver's seat of the car and began CPR.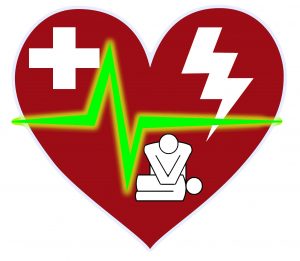 A "LUCAS® Tool" was applied and took over manual chest compressions. The LUCAS® Chest Compression System is designed to help improve outcomes of sudden cardiac arrest victims and improve operations for medical responders. Performing at least 100 compressions per minute with a depth of 2", LUCAS® can be deployed quickly with minimal interruption to patient care. Fortunately for the victim, he had his medical emergency in one of two fire districts where first responders have the tool.
A Defibrillator, an important life saving tool that every Stamford fire apparatus has, was then applied. After two minutes of chest compressions, the LUCAS® Tool was stopped and the patients heart rhythm was analyzed. The Defibrillator advised that the heart was in a shockable rhythm, so firefighters administered a shock as directed. The patient was re-evaluated and found to still have no pulse. After the shock, the patient began to exhibit several agonal respirations. Agonal respirations are an abnormal pattern of breathing and brainstem reflex characterized by gasping, labored breathing, accompanied by strange vocalizations and spasmodic jerky contractions of respiratory muscles.
Firefighters continued CPR for an additional one minute until the paramedics arrived. The patient was quickly loaded in ambulance for preparation of Advanced Life Support by the Paramedics. The medics promptly switched over the defibrillator pad cables to their advanced cardiac monitor. The rhythm indicated that another shock was advised, so a second shock was delivered by the medics. Within a few seconds of the second shock, and before leaving for the hospital, the patient regained a stable heart rhythm and began breathing on his own.
We have since learned that 43 year old Jean E Lauture has left the hospital and is anxious to meet his rescuers. He will get get the opportunity to meet them this week.
On Thursday, March 24th, Lt William O'Connell, Firefighter Michael Orawsky, Firefighter Dante Vartuli and Probationary Firefighter Adam Japha as well as Paramedic John Iossa, AEMT Jamie McEwen and EMT Robert Vankeuren of Stamford EMS are all receiving the Stamford Fire Department EMS Award for their outstanding life-saving effort. Mr Lauture will be present at the award ceremony.
The award ceremony will be held at the Central Fire Station at 629 Main Street at 1 pm on Thursday, March 24, 2016. All are invited to attend.
TAGS:
CPR,Cardiac Arrest,Award,EMS,Emergency Medical Service
CONTACT:
Fire Captain, Public Information Officer
[email protected]