Share This Story, Choose Your Platform!
Written by Interim Fire Chief Trevor Roach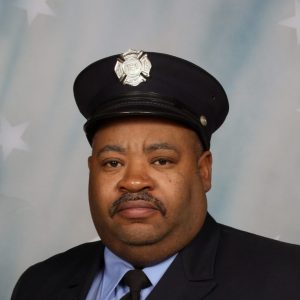 It is with deep sorrow that I must report the passing of Firefighter Richard Saunders, a member of our family, please keep his wife and family in your hearts.
Firefighter Richard Saunders, age 52, passed away at 0900 Hours Saturday morning from complications due to cancer. Rick was born and raised in Stamford, attending public school, and was a 30 year veteran of the Stamford Fire Department.
Rick began his career with the Department in June of 1985 at the young age of 20. During his first year "On the Job", he would receive his first of two unit citations, though in those days we were not as formal, a simple letter from the Chief to the Mayor would suffice. He was riding Unit 16, the Mini Pumper, the predecessor of Rescue 1, the crew of Captain John McCabe, Firefighters Fred Murphy, Anthony Milone, and Richard Saunders, responded on a reported man trapped under an oil truck on Pressprich Street. The victim had climbed under the truck to attempt a repair when he was entangled in the drive shaft. Captain Milone related it as a long cold and tedious extrication, having to take the truck apart, including dropping the saddle tank, to free the victim's body. Rick's experience as a mechanic enabled the crew to work as a calm and professional unit and methodically conduct this grim recovery.
March 28, 1995 would bring his second Unit Commendation; he was operating as part of Engine 2 and Truck 2 with Captain Avalos, Firefighters Bob Venneri, Ken Byxbee, Terry Shay, Terry Mcgrath, Rick Saunders and Jim Kelley. They responded to 28 East Walnut Street on reported structure fire, the crew rescued two children and an adult male from inside the smoke filled structure and rendered medical care until the arrival of Stamford EMS.
Rick spent the majority of these 30 years assigned to the Southend Station. During his tenure he saw the move of the company from its early station on Pacific Street to the new station on lower Washington boulevard. That was not just a change in location but a change in mission to the Hazardous Materials Response Company, Rick embraced that change becoming a Hazardous Materials Technician in 2000. For the last 8 years was the assigned driver of Truck #2. He was also a certified firefighter 1 and 2 as well as an Emergency Response Technician.
Rick worked as an Automobile Mechanic for several local Dealerships before he began his career with the Fire Department. He maintained his love for cars throughout his life, and both raced and collected classic cars Rick leaves behind his wife Cathy, and stepchildren Michael and Kelly of Marlborough CT.