Share This Story, Choose Your Platform!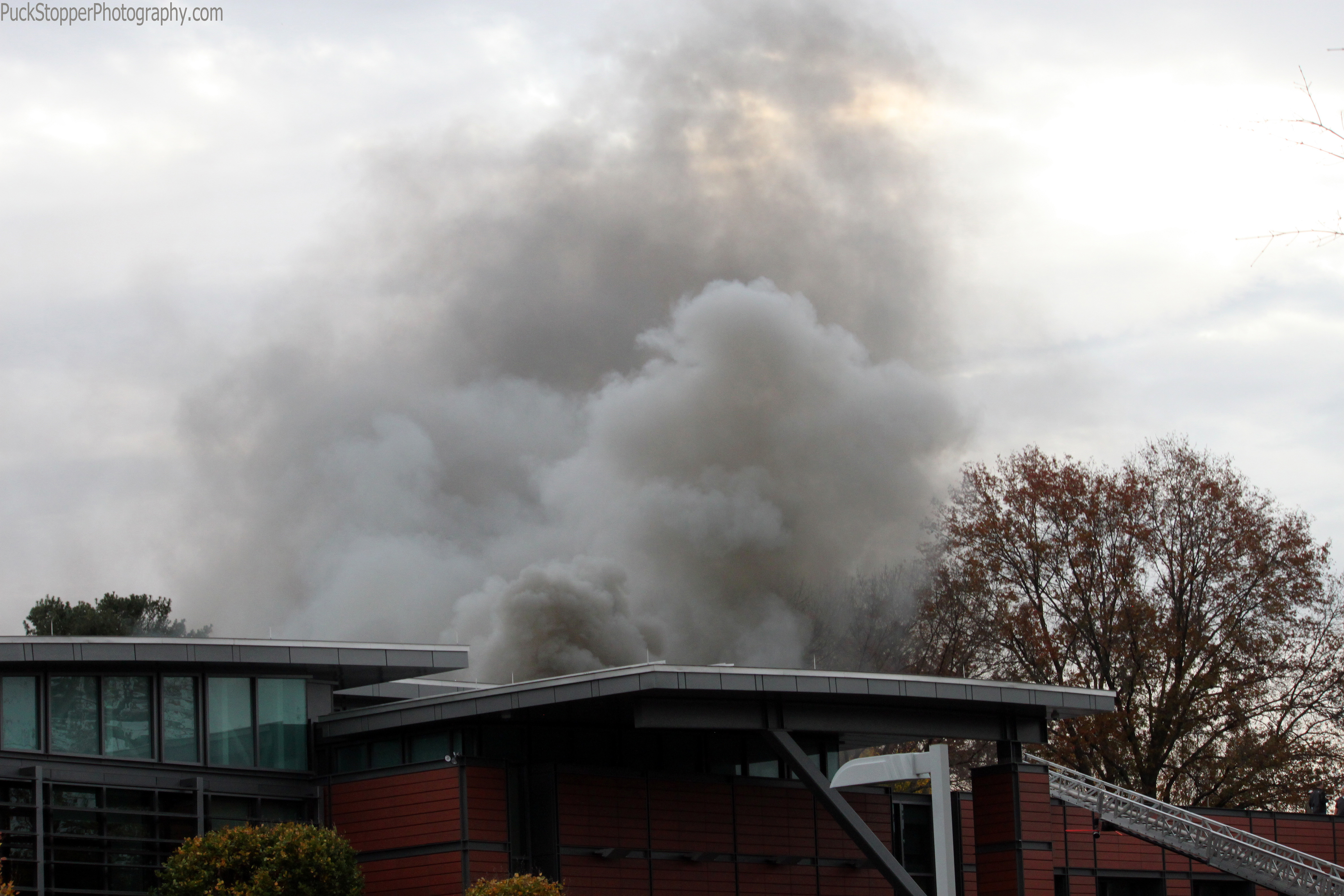 At 8:13 Saturday morning, Stamford's Combined Dispatch Center began receiving multiple calls, reporting heavy black smoke coming from the roof of 72 Cummings Point Road. Some callers reported occupants fleeing the building. A first alarm assignment of three engines, a ladder truck, a rescue company, a Rapid Intervention Team and an Incident Commander responded.
The commercial office building at 72 Cummings Point Road is home to "Point 72 Asset Management", a group of hedge funds founded by Steven A Cohen.
The first arriving engine company confirmed a working fire on the roof of the large commercial structure. A second alarm was immediately requested by the Incident Commander, bringing an additional engine and truck company.
"Fire crews quickly gained access to the roof and found a large air conditioning unit well involved, threatening several other adjacent units and the roof of the building" according to Acting Deputy Chief Shaun Tripodi.
Firefighters worked for about an hour cutting away, removing duct work and the metal housing from the air-conditioning unit so they could fully extinguish the fire.
Firefighters later learned that the air conditioning units had just been installed and several tradesman had been working on them when the fire broke out. Two tradesman were transported to Stamford Hospital Emergency Department for smoke inhalation. Their injuries did not appear to be life-threatening. There were no firefighter casualties.
A third alarm was sounded, bringing an additional engine and truck company to the scene to assist with the overhaul and to provide relief for the initial attack crews.
Firefighters also performed salvage operations, covering office equipment with large tarps to help limit water damage to the offices below the fire.
Stamford's volunteer firefighters were toned out and were requested to stand by their respective stations. In addition, Norwalk Fire Department provided an engine and truck company to cover the Central Fire Station / Headquarters at 629 Main Street.
Two Stamford EMS units, a Paramedic Supervisor and a rehabilitation unit responded to the scene and assisted. Stamford Police provided crowd and traffic control.
The cause of the fire is currently under investigation by the Stamford Fire Marshals Office.
The trading floor and data rooms were unaffected by the fire.
Photo Credit Jon Tenca/ Puck Stopper Photography