Share This Story, Choose Your Platform!
Assistant Chief Trevor Roach to Assume Role of Fire Chief on December 1st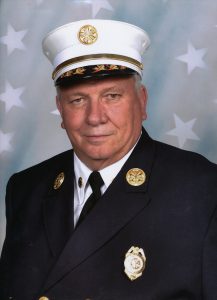 Mayor David Martin has announced that Fire Chief Peter Brown will be retiring as Chief of the Stamford Fire Department at a press conference today.  His retirement well be effective December 1, 2015.
"For his more than four-decade career, Chief Brown has given Stamford residents distinguished service, and with his retirement, Stamford loses a dedicated servant," said Stamford Mayor David Martin. "Chief Brown has been vital in keeping Stamford's Fire Department moving forward as one department, and has respectfully worked with both career and volunteer firefighters. I wish him all the best in retirement."
Mayor Martin then announced that he has appointed Assistant Chief Trevor Roach as the new Fire Chief of the Stamford Fire Department.  He will begin in his new role on Dec. 1, 2015.
"Chief Roach has dedicated years of service to the Stamford Fire Department and is my choice for our next Fire Chief. He was endorsed by the Director of Public Safety, Health and Welfare; by the Chairman of the Fire Commission who has worked closely with him since being appointed; and by Fire Chief Peter Brown who has mentored Assistant Chief Roach as part of a leadership succession plan," said Mayor Martin. "Trevor understands the unique matters facing our Fire Department and the City, and I am confident that he will bring this knowledge, his experience as a firefighter and his track record as an effective leader to his new role as Fire Chief. I look forward to continuing to work with Chief Roach in his new position."