Share This Story, Choose Your Platform!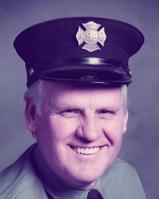 Mr. Donald Merritt Woods passed away peacefully on Friday 07/24/15, with his family by his bedside.
He was born on April 16,1934 in Port Chester N.Y. the son of the late Chauncey and Gertrude Woods. He graduated from Stamford High School; was a City of Stamford Firefighter for 36 years and a proud veteran of the U.S. Army.
He resided in Warren, Connecticut with his wife Carol.
He was predeceased by his brothers Robert Woods, Joseph Woods; and his sister Eleanor Candido.
Don is survived by his wife Evelyn (Carol) Woods; sisters Patricia Clark; Audrey Boccuzzi; his children Donald Woods Jr. and Kathleen Woods; his grandchildren Jennifer Woods; Amanda Woods and Crystal Nunez-Woods; and his numerous nieces; nephews and cousins.
He was an avid outdoorsman who loved hunting, fishing, birding and golf.
He served on the Board of Directors for the Warren Public Library for several years.
Viewing hours will be on Wednesday evening July 29, 2015 at Rowe Funeral Home 283 Torrington Road, Litchfield, CT 06759 from 4PM-7PM.
A memorial service will be held July 30, 2015 at the Warren Congregational Church, 4 Sacket Hill Road Warren, CT 06754 at 10:30AM.
Kindly visit www.rowefuneralhome.net to send the family an online condolence.