Share This Story, Choose Your Platform!
STAMFORD, CT – A coastal storm will bring the potential for heavy snow, strong winds and dangerous cold from Monday evening through Tuesday night. Up to 30 inches of snowfall is expected in the City of Stamford.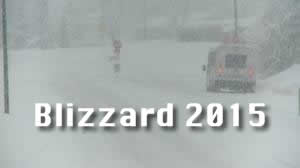 A Blizzard Warning has been issued from this afternoon through Tuesday night. And a Coastal Flood Watch is in effect from late Monday night through Tuesday morning.
Mayor Martin has declared a Snow Emergency for the City of Stamford as of 10 am this morning.
Governor Malloy has declared a State of Emergency and has banned travel on all roads beginning 9pm tonight.
The Office of Public Safety has been tracking the storm and convened a meeting in the Emergency Operations Center this morning to discuss the impact of the winter storm, preparedness  and the City's response.  The Offices of Public Safety, Health and Welfare and Operations are prepared to respond to this winter event.
The City's Emergency Operations Center has been activated and will continue to monitor the storm for the duration of the event.
Snow Emergency
During the Snow Emergency, Snow Emergency Routes are to be kept clear of cars.  All City garages are currently open and free to residents for the duration of the Snow Emergency.
Cars remaining on Snow Emergency Routes will be ticketed and towed beginning 6:00 pm tonight.  The list of effected roads is attached at the end of this announcement.  Residents can also check on-line at http://www.stamfordct.gov/road-maintenance/pages/snow-emergency-routes.
Due to the volume of snow expected, the City Operations Department is requesting residents to keep all roads clear of cars to allow the snow plows to fully plow the streets.  Cars should be moved into driveways or parked at City Garages.
Hazards
Monday night into Tuesday afternoon, there is a potential for life-threatening conditions and extremely dangerous travel due to heavy snowfall and strong winds with whiteout conditions. Only travel in an emergency during the height of the storm. If you must travel, keep an extra flashlight food and water in your vehicle in case of an emergency.
Winds are expected from the northeast at 20 to 30 mph with wind gusts up to 40 MPH inland and 60 MPH at the coast.
Blowing and drifting snow will produce dangerous travel conditions.
As the winter storm is expected to intensify this evening we recommend that all motorists stay off the roads and highways once weather conditions begin to deteriorate.
If you must travel during the storm, provide your route of travel details to a family member or friend. Motorists are also encouraged to check media reports prior to traveling to gather the latest updates on road conditions and possible closures.
Blizzard conditions will present zero visibility at times in blowing and drifting snow.
Moderate power outages are expected.
Warming Centers
All Fire Stations and the Government Center will be utilized as warming centers for the duration of the event.  If necessary, shelter and other pertinent information will be made available through the City's website and through the media.
Stamford Public Schools
Stamford Public Schools are on an Early Dismissal schedule today, and will be closed tomorrow Tuesday January 27, 2015.
Power Outages
Moderate power outages should be expected.  Connecticut Light & Power has called in additional line and tree crews.
Life threatening situations should be reported to 911.
Downed power lines should be reported immediately to CL&P at 1-800-286-2000.
Citizen Services
To report operational issues such as downed trees, etc., the Citizens Service Center will be open for calls at 203-977-4140.  For emergency issues please call 911 and for non-emergency weather related issues call 203-977-4444.
City Garbage Pickup
Tuesday garbage and recycling pickup has been cancelled.  Residents normally receiving garbage and recycling pickup on Tuesday and Wednesday should check www.StamfordCT.gov for updates.  Residents are urged to take garbage and recycling bins off the roadway to keep them clear for plows.
 Precautionary/Preparedness actions:
During these types of storms, possible flooding and/or loss of electrical power can be expected.
It is recommended that residents stay indoors during the blizzard.  Winter storms are dangerous.  People can be injured in traffic accidents, on icy roads, from falls and from hypothermia from prolonged exposure to cold.
Residents are urged to prepare:
Stay indoors during the storm. Drive only if it is absolutely necessary.

Prepare an Emergency Supply Kit:
Keep an extra cell phone car-charger in your automobile
Bottled water, 3-5 day supply (1 gallon per person, per day)
High-calorie, non-perishable food, i.e. granola/snack bars, etc.
Flashlights/Battery operated lanterns
Extra Batteries
Blankets or Sleeping Bags
Extra Clothes
First Aid Kit

Develop and Rehearse an Emergency Plan: Organize a plan for you and your family, should there be an emergency. Always inform loved ones where you are and where you are going, in case you become separated or need to relocate.  Teach family members how to use text messaging; text messages can often get around network disruptions when a phone call might not be able to get through.

Dangers of Carbon Monoxide Poisoning:  In the event of a power outage, portable generators should be operated safely. Outdoor grilling devices should never be brought inside the home for cooking or warmth. Only use generators and outdoor grills outside of your home and never in enclosed spaces such as garages, basements, or porches.  Always run your generator outdoors as far from your home and your neighbors' homes as possible (at least 20 feet) and away from doors, windows, and air intake vents.
Register with www.CTAlert.gov, to receive a phone message, text message whenever there is an urgent announcement or situational update.  Visit: www.cityofstamford.org, and click on the "Register for Stamford Alert" button.
Keep Automobiles Prepared:  Power outages may disable fuel stations. Keep a cell phone car-charger in the glove box.
Emergency Shelters: In the event of a major power outage emergency shelters may be open to the public. Be sure to pack any necessary medications or medical equipment, toiletries and bed linens.
Care for your Pet: Bring pets/companion animals inside during winter weather.
Stay Informed:  Be sure to repeatedly check your local TV and radio stations, and the City's website for news and information as it becomes available.
Visit:
www.stamfordct.gov
WSTC Radio  – 1400 AM
WSHU Stamford Radio – 91.1 FM
WGCH Radio – 1490 AM
Fox Radio 95.9 FM
News 12 Connecticut, Channel 12
To prepare for and respond to severe weather visit:
Be Prepared Stamford:
http://bepreparedstamford.org/ColdWeather.htm
CT Dept. of Public Health:
http://www.ct.gov/dph/cwp/view.asp?a=3115&q=472542
FEMA's Ready.Gov:
National Weather Service:
Snow Emergency Routes: 
Snow Emergency Routes Streets in Stamford (10/17/14)

Adams Avenue
Knickerbocker Ave *
– East Side of one way portion
Atlantic Street
Lockwood Avenue
Bedford Street
Main Street
Belltown Road
Morgan Street
Bridge Street
Myrtle Avenue
Broad St.
from Washington Blvd to Main St.
North St
from Washington St. to Prospect St.
Cove Road
Prospect Street
Crescent Street
Southside of the street
Seaside Avenue
Fifth Street
Selleck Street
Forest Street
Shippan Ave.
from Elm St. to Magee Ave.
George Street
Southfield Avenue
Glenbrook Road
Stillwater Ave.
from W. Main St. to Broad St.
Greenwich Avenue
Summer Street
Hope Street
Third Street
Horton Street
Wenzel Terrace *
Hoyt Street
West Ave.
from I-95 – to Stillwater Ave.
Houston Terrace – East Side *
West Broad Street
West North Street
New *
Deleted – Snow Emergency Route Streets in Stamford
Camp Avenue
Pacific Street
From Henry St. to Manhattan Street
Elm St.  – From the rail road tracks to Shippan Avenue
Station Place
Hamilton Avenue
Taylor Reed Place
Magee Avenue
West Main Street