Share This Story, Choose Your Platform!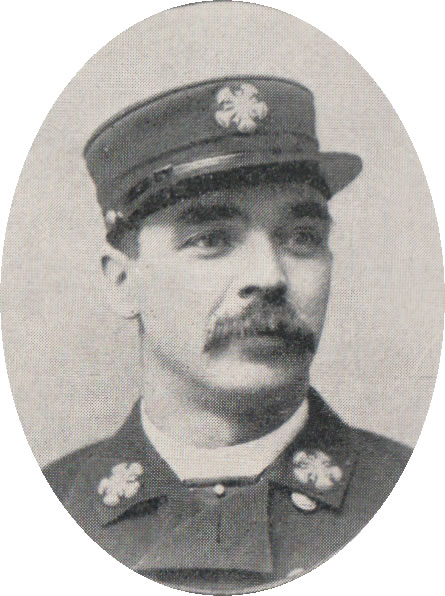 George Bowman was born on May 12, 1852 in Fifeshire. Scotland. He and his parents immigrated to New York when George was just six months old.
Sometime around 1877, George married Mary Davis of Connecticut. He and his wife came to Stamford around 1880 becoming employed by the Yale and Towne Factory on the South End of Stamford.  He worked there for twelve years.
It appears that George and Mary had just one son, George Bowman Jr, who was born in June, 1883 in Stamford.
George Bowman Sr., a man who had shown talent for organization, was made Assistant Chief of the Stamford Borough Fire Department in 1885.  Just two years later, on May 1, 1887 he was named Chief of the Stamford Fire Department.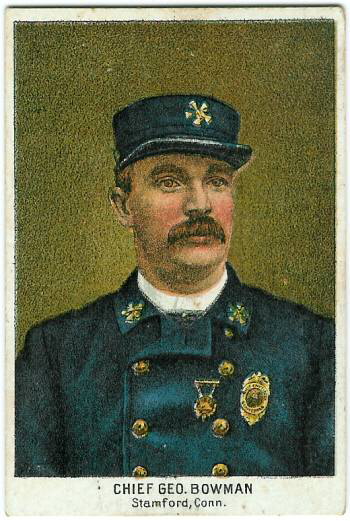 Chief Bowman must have certainly impressed the Borough leaders, as he was named Chief of the Stamford Police Department on October 1, 1894 while also retaining his position as Fire Chief.
According to the 1900 US Federal Census, George, his wife and son lived at 6 Park Place.  He listed his occupation as Police Chief.

Chief Bowman who had contracted tuberculosis, left Connecticut for Adirondacks sometime around August 1902.  He was granted a a three month Leave of Absence from his duties by City leaders.  Unfortunately, he died just a short time after arriving in the Adirondacks on Sept. 14, 1903 in Saranac Lake.
At his death George was returned to Stamford where he was buried at the Woodland Cemetery on the South End of Stamford.
George's wife Mary died at the age of 48 of pneumonia on June 24, 1912 at her home at 27 Bell Street.   She is buried with her husband at Woodland Cemetery.
According to the 1910 US Federal Census, George's son, George Jr appears as a toolmaker living on Fairfield Avenue in Bridgeport.  It lists him as being married for one year, but his wife is not named and does not appear to be living with him.
The obituary of George's mother does not mention George Jr as a survivor, so it is possible that he died sometime between 1910 and 1912.  There are no known surviving descendants of Stamford's first Fire Chief.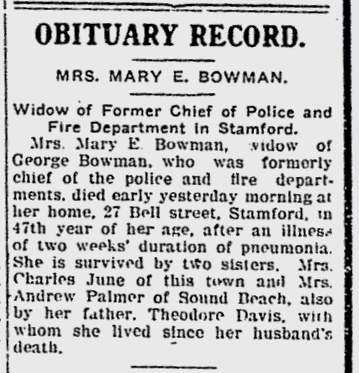 Interestingly, George Bowman Sr.'s obituary, published in the New York Times, mentions that he was also once the Chief of the Ilion, New York Fire Department, although there is not other evidence of this.