Share This Story, Choose Your Platform!
INCIDENT:        Winter Storm Watch – Be Prepared
Friday, December 13, 2013    12:00 PM, Stamford
A winter storm is expected to impact Stamford late Saturday morning through late Sunday morning. Strong winds 15 to 25 MPH could be expected with possible wind gusts up to 30 mph. There is a potential for significant snow, sleet and/or ice conditions. The total snowfall is expected to range from approximately 4 – 9 inches.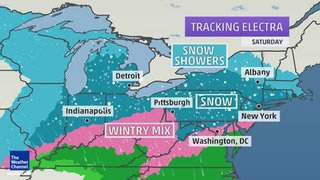 Mayor David Martin urged caution to residents ahead of the season's first major winter storm and stated that the city is fully prepared for the incoming weather conditions. "Preparation can save lives. Residents are urged to prepare for the incoming winter storm by planning ahead and following the advice of our public safety officials. The safety and wellbeing of our residents is our first priority and the city is fully equipped to respond to the storm." Martin said.
The Director of Public Safety, Health and Welfare, Ted Jankowski stated, "Planning is so important. Winter storms are very dangerous. Snow, sleet and ice conditions will occur and the loss of electrical power can be expected.  I ask residents to use caution when traveling.  Being prepared and understanding how to react to hazards and the risks associated with a winter storm are vital to one's safety."
Saturday Morning: Cloudy with light snow developing from West to East between 8:00 – 11:00 AM.  Temperatures rising from the mid teens into the low 20's.
Saturday Afternoon: Light snow for most of the afternoon becoming moderate at times by 5:00 PM.  The light snow will stick quickly to most roads however the impact on afternoon travel is expected to be minor for most of the afternoon.  Temperatures are forecast to rise into the mid 20's by late afternoon with Northeast winds at 10 – 15 MPH.
Saturday Night: Snow becoming heavy at times between 8:00 – 10:00 PM.  A rain / snow line is then expected to develop along the coast of Connecticut by 1:00 AM and begin moving slowly inland.  As the rain / snow line moves slowly north towns north of the line can expect a period of heavy snow with snowfall rates up to 2" per hour for several hours before the snow changes to sleet and freezing rain.  Travel is expected to become very hazardous after midnight with heavy snow blowing across roads and Northeast winds 15 – 25 MPH gusting to 35 MPH at times north of the changeover line.
Sunday Morning: Snow in Northern CT and sleet / freezing rain in Southern CT tapering off between 8:00 – 10:00 AM.  Some light snow or flurries may persist during the rest day especially in the Northwest hills with little or no additional accumulation.
Residents and business are urged to prepare:
Minimize travel and stay indoors during the storm.
Drive only if it is absolutely necessary.
Prepare an Emergency Supply Kit:

Keep an extra cell phone car-charger in your automobile
 Bottled water, 3-5 day supply (1 gallon per person, per day)
High-calorie, non-perishable food, i.e. granola/snack bars, etc.
Flashlights/Battery operated lanterns
Extra Batteries
Blankets or Sleeping Bags
Extra Clothes
First Aid Kit
Before a winter storm approaches, add the following supplies to your emergency kit:

Rock salt or more environmentally safe products to melt ice on walkways and sand to improve traction.
Snow shovels and other snow removal equipment.
Sufficient heating fuel.
Adequate clothing and blankets to keep you warm.
Develop and Rehearse an Emergency Plan: Organize a plan for you and your family, should there be an emergency. Always inform loved ones where you are and where you are going, in case you become separated or need to relocate.  Teach family members how to use text messaging; text messages can often get around network disruptions when a phone call might not be able to get through.
Dangers of Carbon Monoxide Poisoning:  In the event of a power outage, portable generators should be operated safely. Outdoor grilling devices should never be brought inside the home for cooking or warmth. Only use generators and outdoor grills outside of your home and never in enclosed spaces such as garages, basements, or porches. Always run your generator outdoors as far from your home and your neighbors' homes as possible (at least 20 feet) and away from doors, windows, and air intake vents.
Register with Stamford's Emergency Notification System, Code Red, to receive a phone message, text message whenever there is an urgent announcement or situational update.  Visit: www.stamfordct.gov, and click on the "Register for Stamford Alert"button.
Keep Automobiles Prepared:  Power outages may disable fuel stations. Keep a cell phone car-charger in the glove box.
Emergency Shelters: In the event of a major power outage emergency shelters may be open to the public. If needed this will be announced on the City of Stamford website and through media. Be sure to pack any necessary medications or medical equipment, toiletries and bed linens.
Care for your Pet: Bring pets/companion animals inside during winter weather.
When to Call 911:

To report a life-threatening emergency
To report power line or live wires. NEVER approach the wires!
The roadway is blocked and emergency vehicles cannot get through
If you smell a gas leak
When to Call Connecticut Light and Power:

Routine power outages should be reported to CL&P at 800-286-2000
Stay Informed:  Be sure to repeatedly check your local TV and radio stations, and the City's website for news and information as it becomes available.
Visit:

 Fairfield County Public Radio (WSHU)  – 1400 AM
 WSHU Stamford Radio – 91.1 FM
 WGCH Radio – 1490 AM
 Fox Radio 95.9 FM
News 12 Connecticut, Channel 12
Additional tips on how to prepare for and respond to severe weather, visit: www.ready.gov and www.weather.gov