Share This Story, Choose Your Platform!
Sunday, October 28, 2012, 12:30  PM, Stamford   
Mayor Michael Pavia met this morning with City Operations and Emergency personnel and shared in a state wide conference call with Governor Malloy and members of CT Dept. of Emergency Services and Public Protection and Homeland Security.
The City of Stamford has officially opened the Emergency Operations Center and it is fully activated. A State of Emergency has been Declared for the City of Stamford.  Mayor Michael Pavia has announced a mandatory evacuation of areas that are most vulnerable to flooding.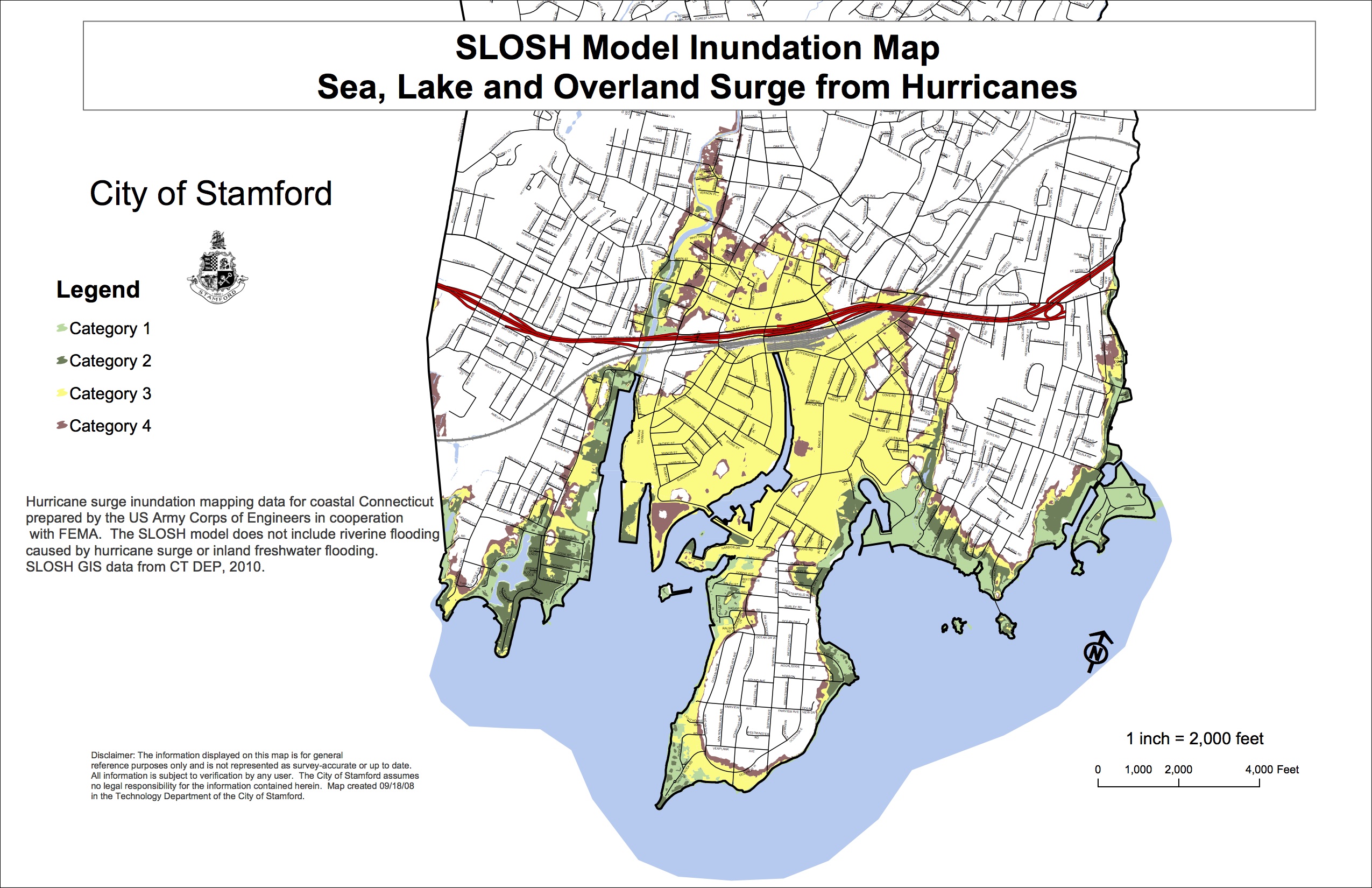 Current projections from CT Emergency Services and Public Protection, as of 12 noon today, show that flooding potential may reach Category 4 of the Sea, Lake and Overland Surge from Hurricanes (SLOSH) Inundation Map.  (Refer to Map)  Unprecedented tides may reach as high as 8' to 10' above normal high tides.  Mayor Michael Pavia has ordered a Mandatory Evacuation (Effective immediately) for residents who live in SLOSH Areas I and II.
Residents who reside in SLOSH Areas III and IV are urged to prepare for a mandated evacuation, which may become necessary later today.
"Due to expected high tides, unprecedented storm surges, and heavy rains, I am advising anyone that lives in a low-lying area or along river flood plain areas, to relocate to higher ground," the Mayor stated. "In the best interest of life and property, take all warnings to take precautions very seriously.  Residents should plan on extended evacuations due to forecasted extreme weather conditions."
Residents who live on the following streets (SLOSH List for Category I and II) should evacuate their homes and move to higher ground.  Those streets are as follows:
Auldwood Dr; 32 and higher
Burwood Ave; 92 and higher
Cambridge Rd; 4, 12
Carter Dr; 27 and higher
Clinton Ave (odd only)
Cook Rd
Cummings Point Rd; 120 and higher
Davenport Dr
Davenport St
Division St; 1 – 28
Dolphin Cove Quay
Downs Ave; 93 and higher
East Ave; 24 and higher
East Main St; 1281 and higher
Eureka Ter
Flying Cloud Rd
Gatehouse Rd
Greenwich Ave; 108 – 186 (even only); 204 – 255 (both sides)
Gypsy Moth Landing
Half Moon Way
Hickory Dr
Hobson St; 95, 120
Holly Cove Cir
Joshua Slocum Dock
Kenilworth Dr E; 56 and higher
Kenilworth Dr W; 61 and higher
Lanark Rd; 33 and higher
Lighthouse Way; 31 and higher
Limerick St; 51 and higher
Main St; 1 – 29 (odd only)
Mathews St; 94 and higher
Milton St; 1- 18
Mitchell St; 46 and higher
Ocean Dr N; 2 – 50
Ocean Dr W; 367 – 389 (odd only)
Pulaski St; 44 and higher
Ralph St
Ralsey Rd South
Ralsey Rd; 82 and higher
Rockledge Dr; 102 and higher
Rogers Rd; 35 and higher
Saddle Rock Rd; 34 and higher
Sagamore Rd; 89 and higher
Sea Beach Dr; 39 and higher
Seaview Ave; 10, 43 and higher
Selleck St; 1 – 11
Shore Rd; 5
Signal Rd
Silver St
Soundview Ave; 200, 211
Soundview Dr; 45 and higher
Southfield Ave; 2 – 196 (even only)
Southfield Ave; 211 and higher
Thread Needle Rd
Top Galland Rd; 1 – 56
Tupper Dr
Van Buskirk Ave; 13 – 107 (odd only)
Wallacks Dr; 62 and higher
Wardwell St; 240
Water St
Waterbury Ave; 154 and higher (even only)
Weed Ave
Weed Cir
West Main St; 9 – 43
Whittaker St
Willowbrook Ave; 205 and higher
Residents should immediately make arrangements with family, friends or other accommodations outside of the hazardous area.  If none of those options are available to you, the City has opened the following shelters effective at 1:00 PM today:
Stamford High School, 55 Strawberry Hill Ave., Stamford  
Rippowam High School, 381 High Ridge Road, Stamford
Scofield Middle School, 641 Scofieldtown Road, Stamford
Bring any necessary medications, toiletries and bed linens you will need with you. Shelters are pet-friendly, however all animals must have their vaccinations up to date (tags or paperwork) and must be crated. Please bring food and medicine for your pets.
If necessary, additional shelters will open and be announced on the City's website: www.cityofstamford.org and on Twitter @cityofstamford.
Stamford Public Schools will be closed Monday, October 29th through at least Wednesday, October 31st.
Parks & Recreation: All Stamford Parks are Closed effective 12 Noon today
Parking Garages: Bell Street, Bedford Street and Summer Street Garages    will be available for Free Parking for vehicles until further notice.
Garbage/Recycling Pick-up:  Will be postponed until further notice.
EMERGENCY INFORMATION AND CONTACTS:
Emergency Hurricane Hotline 203-977-8840
CL&P 800-286-2000