Share This Story, Choose Your Platform!
At approximately 9:21 PM on Tuesday, March 28th the City of Stamford Combined Dispatch Center (911 center) began receiving reports of a truck that struck a utility pole at the intersection of West Main St. and West Ave. Subsequently it was reported that the truck was leaking gas. First arriving Stamford Fire Department units arrived to find that the truck in question was actualy a fuel tanker truck that was on its way to a nearby gas station to make a gasoline delivery. The tanker truck hit the utility pole just forward of the rear wheels on the passenger side of the fuel tanker. The driver was uninjured and remained on the scene to assist responding units. The driver reported that the capacity of the tanker was approximately 8,800 gallons. Fortunately these transport tankers are also divided into 3-4 sections and the damaged section on this particular tanker only contained approximately 2,800 gallons. Gasoline was observed flowing from the underside of the tanker from a ruptured fitting and was flowing down West Main St. Fire crews from the West Side and South End fire stations immediately began operations to contain the runoff and control the leak by building "dams and dykes" with absorbant material while others hammered wooden wedges into the area of the leak slowing but not stopping the rate of the leak. Collection pools were placed underneath the leaking section of the tanker to contain it and prevent it from running off into the roadway and ultimately down storm drains. The closest downhill storm drain was packed with absorbent pads and covered with plastic to prevent contamination.
Multiple representatives from the State of Connecticut Department of Energy and Environmental Protection arrived on the scene along with a hazardous materials clean-up company. The clean-up company used a specially designed vacuum truck to drain the remaining gas from the damaged section and cleaned up the absorbant materials in the street. Once this was completed the truck was allowed to back off of the utility pole and was driven approximately 1/4 mile to its original destination under police escort and the gas in the remaining sections of the tanker were able to be delivered to the gas station storage tanks with the assistance of the Stamford Fire Dept. mechanical division.
No injuries were reported.
The Stamford Fire Department response included 5 Engine Companies, 1 Truck Company, 1 Rescue Company, 1 Hazardous Materials Response vehicle, 1 Incident Commander, 1 Incident Safety Officer, 2 members of the SFD mechanical division with support vehicles and 3 Staff Chiefs for a total of 36 firefighters and officers. The Stamford Police Department responded with numerous officers and provided assistance at the scene as well as blocking off the intersection. The intersection was completely closed for approximately 4 hours.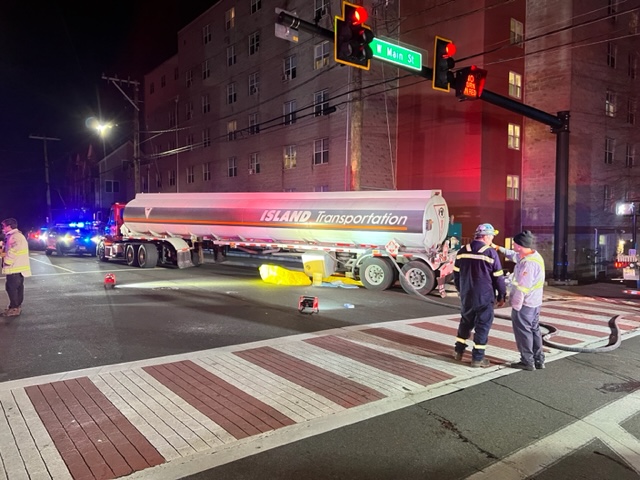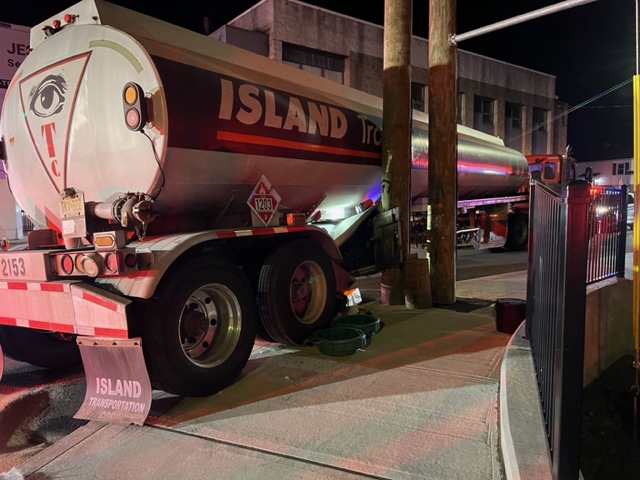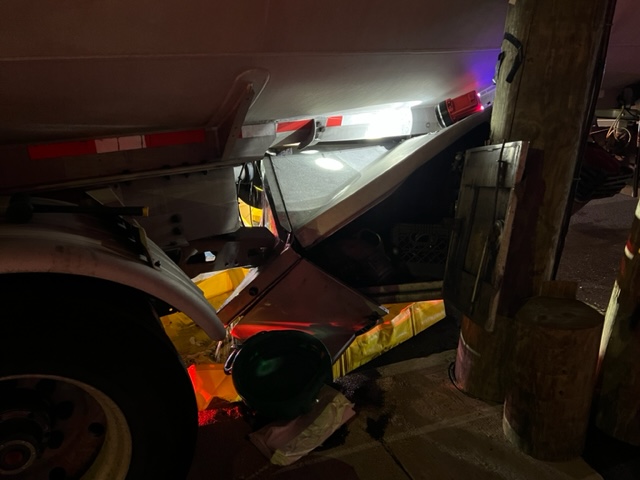 Photo credit to Stamford Fire Department.
Incident Details (if applicable):
Incident Number: 23-02784
Incident Location: West Ave. at West Main St.
Incident Date: 2023-03-28 21:20:00.0
CONTACT INFO:
Deputy Fire Chief John Pritchard
(203) 977-5600
Tags: