Share This Story, Choose Your Platform!
A second alarm response was sent to the scene.
EARLY MORNING RESIDENTIAL STRUCTURE FIRE ON BROOKLAWN AVENUE.
STAMFORD, CT (December 14, 2022) – At 2:21 AM, Stamford firefighters were dispatched to a report of a structure fire at 49 Brooklawn Avenue in Stamford.
First-arriving fire units from the Glenbrook fire station arrived at the scene in less than three minutes and found a fire extending from the garage at the rear of the house and into the attic area.
Firefighters made an immediate attack on areas of fire involving the garage and second floor of the residence.
A second alarm was requested to the scene to provide relief to initial arriving firefighters.
The fire was placed under control one hour after arrival.
A total of 8 Engine Companies, 2 Truck Companies, 1 Heavy Rescue Company, the Shift Commander, and several volunteer units from the Glenbrook Fire Department operated at the scene with a total of 42 career and 12 volunteer personnel.
One occupant of the home was transported to Stamford Hospital by Stamford EMS for smoke inhalation.
There were no injuries to firefighters.
Additional scene support was provided by the Glenbrook Fire Department, Stamford Emergency Medical Services, the Stamford Fire Department Mechanical Division, Stamford Fire Department Training Division, and the Stamford Police Department.
The Stamford Fire Marshal's Office is investigating the cause and origin of the fire.
PHOTOS (1) ATTACHED – ** All photo credit used by media to: Stamford Fire Department Photo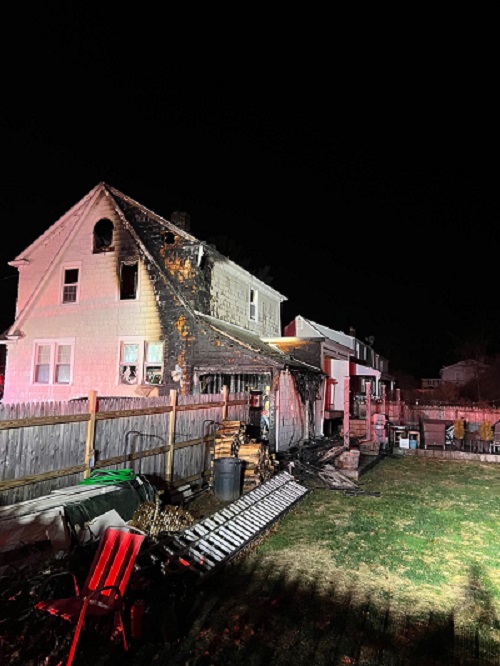 Incident Details (if applicable):
Incident Number:
Incident Location:
Incident Date:
CONTACT INFO:
Deputy Fire Chief Matthew Palmer
(203) 977-5600
Tags: