Share This Story, Choose Your Platform!
Firefighters Quickly Remove a Woman Trapped Under Transit Bus
STAMFORD, CT (July 5, 2022) – At 3:09 PM, the Stamford Emergency Dispatch Center began to receive numerous 911 calls reporting a woman had been struck by a Connecticut Transit bus at the intersection of Broad and Atlantic Streets. Callers stated that the woman was still trapped under the bus.
Due to the nature of this incident, a technical rescue response was dispatched that included 2 Engine Companies, 1 Ladder Company, and Rescue Co. 1. In addition, Stamford Police and Stamford EMS sent multiple units to the scene.
First arriving firefighters arrived on scene in less than 2 minutes and confirmed that a woman was trapped under the front axle of a tandem-style Connecticut Transit bus. The woman was conscious, alert and able to talk with firefighters.
Firefighters immediately went to work to begin a difficult extrication process that involved stabilization of the bus and lifting using high-pressure air bags. Due to the efforts of firefighters, the woman was safely removed from under the bus in less than 10 minutes. The patient was then transferred into the care of an awaiting Stamford EMS ambulance and transported to Stamford Hospital for evaluation and care of her injuries.
"This was a valiant and flawless effort by Stamford Firefighters that demonstrates their exceptional talents and the department's capabilities. Given the size and weight of this bus, we are very grateful that her injuries were not more serious." – Deputy Chief Matt Palmer, Incident Commander.
Stamford Police are handling the investigation.
Stamford Fire Department companies operating at the scene: Engine 5, Engine 1, Truck 1, Rescue 1 & Shift Commander/Deputy Chief.
Stamford EMS units operating at the scene: Medic 2, Medic Supervisor 901.
Photos below (7):
PHOTO CREDIT: Stamford Fire Department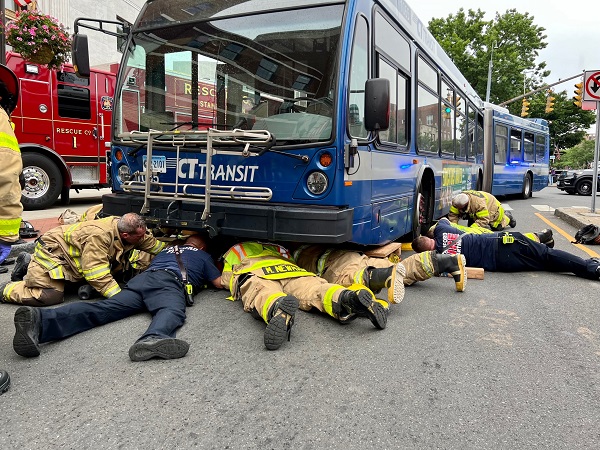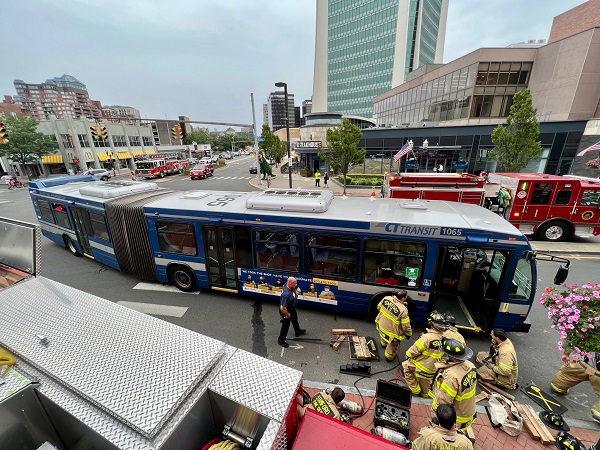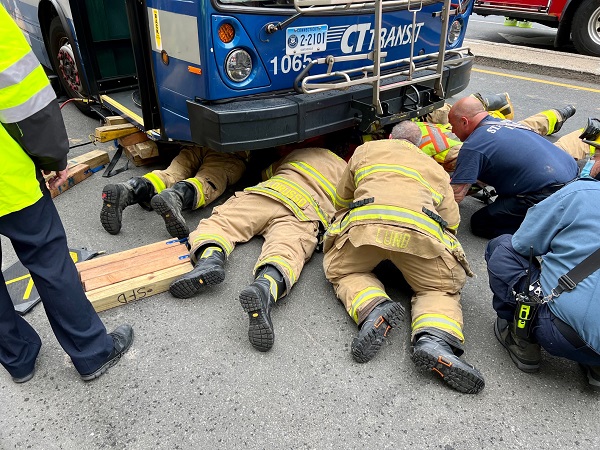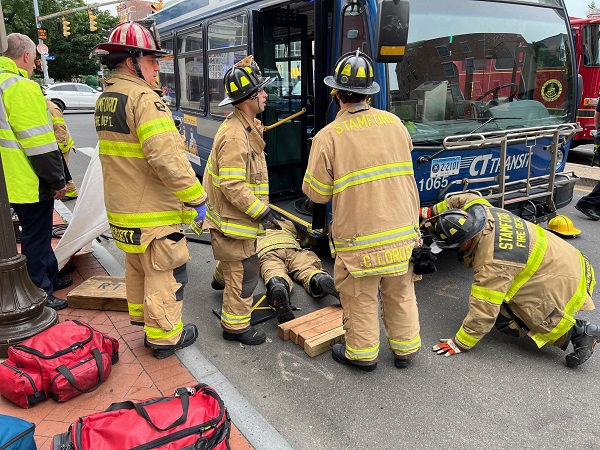 Incident Details (if applicable):
Incident Number: 22-06265
Incident Location: In Front of 1 Atlantic Street // Intersection of Atlantic and Broad Streets
Incident Date: 2022-07-05 15:09:00.0
CONTACT INFO:
Deputy Fire Chief Matthew Palmer
(203) 977-5600
Tags: