Share This Story, Choose Your Platform!
Numerous Occupants Safely Evacuated; One Firefighter Injured
THREE ALARM FIRE IN RESIDENTIAL HIGH-RISE BUILDING FIRE IN DOWNTOWN STAMFORD QUICKLY CONTAINED BY STAMFORD FIREFIGHTERS
STAMFORD, CT (May 23, 2022) – At 7:59 PM, Stamford firefighters were dispatched to a report of a fire alarm activation at high-rise apartment building at 60 Strawberry Hill Avenue in downtown Stamford. While responding to the scene, Stamford Fire Dispatch received additional 911 calls from residents at this location reporting black smoke on the 8th floor.
4 Engine Companies, 1 Truck Company, 1 Heavy Rescue Company, and the Shift Commander responded with a total of 26 personnel.
The first-arriving Engine Company arrived on scene in less than three minutes and found smoke billowing from windows on the 8th floor of the 12-story apartment building. Due to the location of the fire and difficulties associated with firefighting operations in a high-rise apartment building, a second alarm was sounded. The second alarm brought an additional Engine and Truck company to the scene with 8 personnel.
Firefighters were able to quickly ascend to the 8th floor and begin fire attack. Due to their efforts, the fire was contained to the apartment of origin. However, smoke and heat had already traveled throughout the upper floors and stairwells of the building requiring additional fire companies to search the area and assist trapped occupants.
A third alarm was sounded bringing a total of 7 Engine Companies, 2 Truck Companies, 1 Heavy Rescue Company and several Chief Officers to the scene. In total, 49 Stamford Fire Department personnel operated at this incident.
Once under control, all companies remained at the scene to assist with smoke removal and assuring all residents were accounted for.
One firefighter was injured while operating at the scene and transported to Stamford Hospital for further evaluation.
Additional scene support was provided by the Stamford Fire Department Mechanical Division, Stamford Fire Department Training Division, Stamford Emergency Medical Services, Greenwich Emergency Medical Services and the Stamford Police Department.
The Norwalk Fire Department and Stamford Volunteer Fire Departments provided station coverage during this fire.
The Stamford Fire Marshal's Office is investigation the cause of the fire.
PHOTOS (3) ATTACHED – Credit to Stamford Fire Department
Smoke is visible from Strawberry Hill Avenue as firefighters arrive on scene: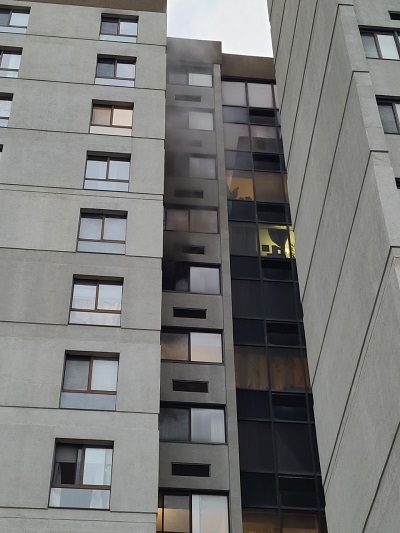 Stamford Fire Department Truck 1 operates in front of the building: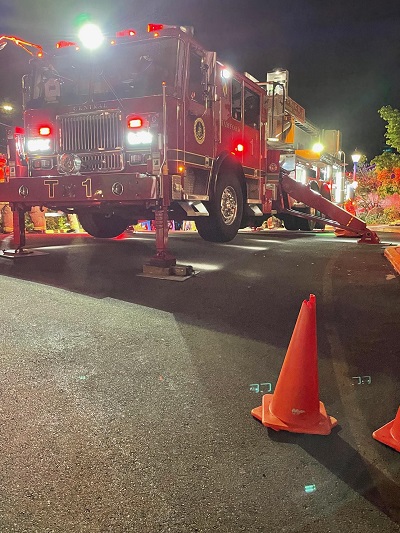 Firefighters on the 8th floor exiting the fire apartment after assisting with fire extinguishment: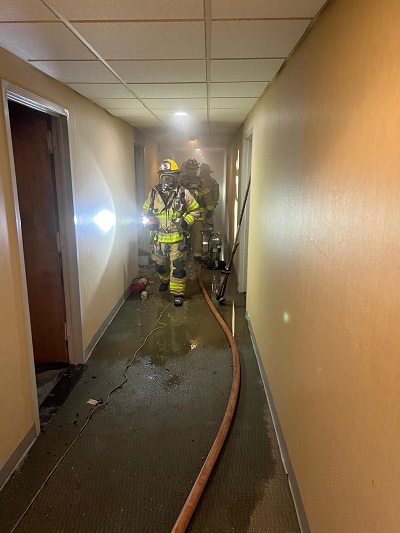 Incident Details (if applicable):
Incident Number: 22-4741
Incident Location: 60 Strawberry Hill Avenue
Incident Date: 2022-05-23 19:59:00.0
CONTACT INFO:
Deputy Fire Chief Matthew Palmer
(203) 977-5600
Tags: