Share This Story, Choose Your Platform!
Fire Damage Limited to the Exterior of the Residence.
FOR IMMEDIATE RELEASE
Stamford Firefighters Quickly Contain Fire on Cold Spring Road
STAMFORD, CT (October 8, 2020) – At 12:24 PM, Stamford Firefighters were alerted to a report of a telephone pole and wires that were smoking on Cold Spring Road, near the intersection of Severance Drive.
First-arriving firefighters found that the electrical service for the house at 203 Cold Spring Road had been struck by a passing truck and there was now smoke visible from the roof and eaves of the home.
A first-alarm assignment was added to the response that brought a total of 4 Engine Companies, 1 Truck Company, 1 Rescue Company and the on-duty Shift Commander. A total of 26 firefighters were able to quickly contain a fire that was burning near the electrical service on the exterior of the home. The fire was placed under control within thirty minutes of arrival.
Additional scene support was provided by Stamford EMS and Stamford Police.
The Stamford Fire Marshal's Office is investigating the fire. Damage to the residence is estimated at $40,000.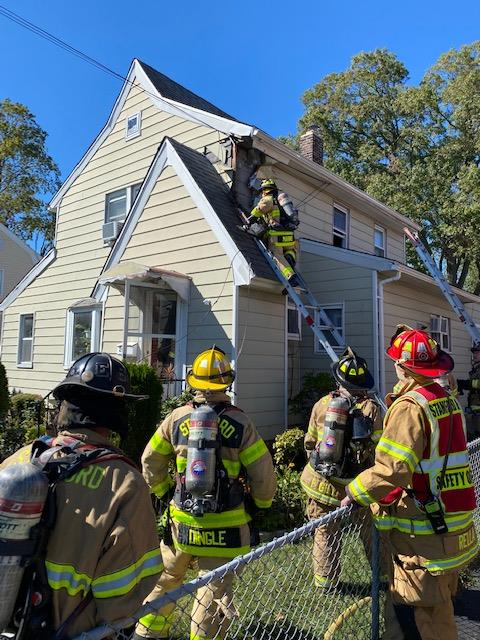 Photo cleared for press use and general distribution. Photo credit to the Stamford Fire Department.
Incident Details (if applicable):
Incident Number: 20-8063
Incident Location: 203 Cold Spring Road
Incident Date: 2020-10-08 12:24:00.0
CONTACT INFO:
Deputy Chief Matt Palmer
(203) 977-5600
Tags: